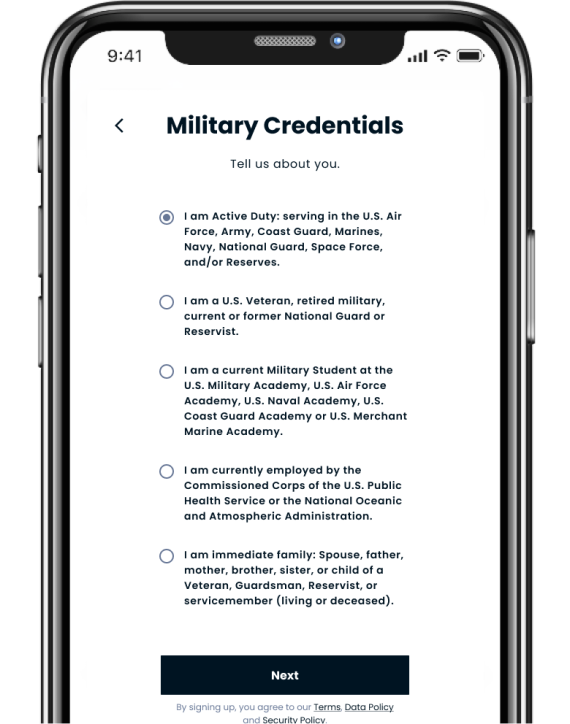 Protect your valuable offers with real-time verification
Our military status verification solution ensures only a qualified customer can redeem the exclusive offers you create as a valued perk. Your exclusive offers can be gated for active military, veterans, retirees, and their family members.
Fast, faultless verification with WeSalute ID
WeSalute ID is an embedded military verification solution that quickly qualifies military customers, guaranteeing the integrity of your offers and protecting them from dilution. As the gateway to an optimized commerce experience, it's an embeddable, secure, and easily-implemented product. Partners can customize and enhance the verification process by integrating with our APIs, while customers enjoy a fast, frictionless path to discovering and redeeming offers. We're as close to instant, real-time verification as you can get, qualifying customers in minutes, not days.
WeSalute ID offers flexible verification models to match your offer value and custom enterprise pricing to generate loyalty with the military community. 
Join us at WeSalute to earn military customer loyalty
WeSalute delivers you the technology solutions and support to bring the military customer to your business. Verification services for our exclusive tiered military discounts are designed to enhance your military customer lifetime value.
Get discounted military verification services
WeSalute offers you customized options for military verification and offer redemption. Businesses that join the WeSalute Partner Coalition and create a WeSalute+ Exclusive receive custom pricing, volume based discounts, and access to enhanced features.
If you wish to get started, contact us for onboarding and register for developer access to launch your military offer. 
Instant Verification in real-time
(Yes, it's this simple!)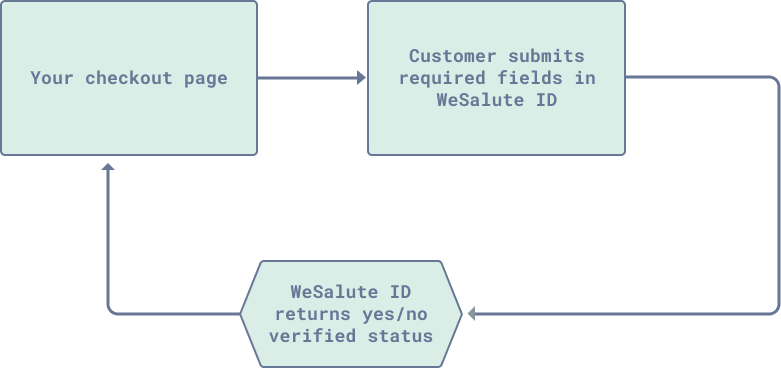 Quick qualification
Military verification that happens in minutes, not days
A frictionless user experience
A user and conversion-optimized experience, where offer redemption is easy and partners build trusted relationships with the military community
A seamlessly secure system
Verified users mean verified offer protection, so there's no offer dilution or fraudulent claims
Pain-free for our partners
An effortless experience for our partners, who are relieved of labor-intensive tasks like documentation and paperwork
How We Deliver Value
OUR VERIFICATION TECHNOLOGY
 Frictionless and Instant Military Verification
 Network Effect for industry leading time to checkout
 Proprietary Verification Algorithm and User Graph
 Embeddable Widget for native user experience
 Client Specialization Rules for custom verification
 API access, Developer Portal, and App Insights
 Mobile App SDKs
ADDED VALUE FOR YOUR CUSTOMERS
 Network Effect for One-Time Verification
 Native Verification and Redemption Experience
 Unlimited Military Offers 
 Easy repeat purchases
 Military Offer Recommendations
 Enhanced privacy with data protection
 Dedicated military customer support
Onboarding with Our Military Verification Services
Customize your solution and empower your team with our easy-to-use developer portal.
Deploy a JavaScript widget in your online shopping cart, call centers or point of sale system.
Enhance verification speed and efficiency with shared verified customers in our partner network.
Developer Resources
Our robust suite of APIs and military verification solutions have delivered time-tested results for leaders in travel and retail for almost 20 years. Learn more on our developer portal, and access helpful resources that can get you up and running in no time!