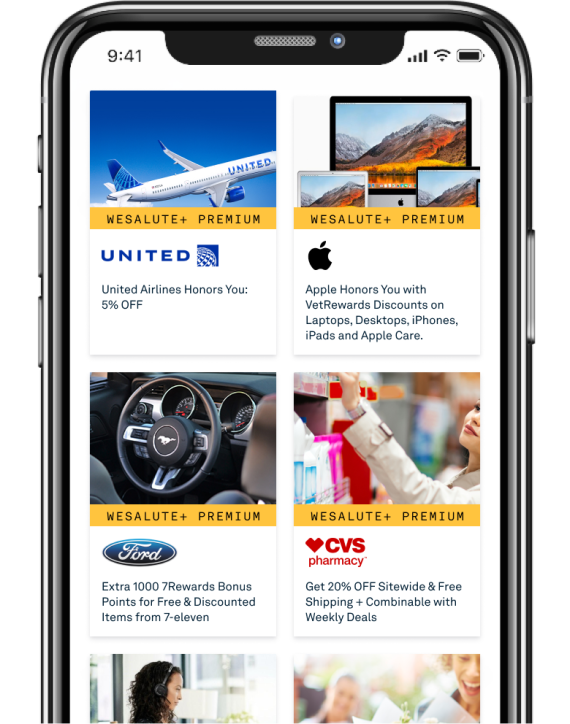 Unlock the power of military discounts with omnichannel marketing
Our proven military marketing solutions deliver new incremental revenue to your business across all your marketing channels.
Military Customer Experience Cloud™
The world's only military customer experience cloud built purposefully to set brands up for success.
With the WeSalute Business, Military Customer Experience Cloud, brands now have the ability to craft user-first customer experiences that meet the unique needs of a military audience. Leverage built-in technology solutions to address the needs of every touchpoint along the customer journey. Deliver connected commerce experiences that delight the military customer and build brand affinity.
Experience a new level of brand engagement with the military audience like never before.
---
Brand Management
Achieve your brands' integrated marketing communication goals across all channels and applications.
Offer Management
Publish and schedule Offer Content to be syndicated to multiple military customer touch-points along the user journey.
Connected Commerce
Leverage our commerce channels for the delivery of your military offer. With enterprise uptime and backed by world-class infrastructure we ensure your offer is delivered, every-time.
Insights & Analytics
Discover trends in your programs' performance and receive granular insights into your brands' military customer experience.
Discover
Deliver targeted offers to military affinity groups
Engage
Bring your brand to the forefront of the military conversation
Convert
Understand the customer journey to deliver real value
Retain
Deliver customer experiences that bring your best customers coming back
Build an exclusive offer to reach the military customer
As a segment with a higher-than-average purchasing power and brand loyalty, the military consumer represents a huge marketing opportunity. Not only does a military discount send a thank you message to military veterans and their families for their service, it's a powerful tool to drive incremental revenue through new customer acquisition and retention. Offering and promoting a military discount is an effective way to engage the military customer.
Create successful military discounts with WeSalute
Leveraging our strong, trusted relationship with the military community, WeSalute helps you create a trusted military discount designed to build long-term loyalty to your brand. We'll work with you to make sure you're effectively reaching the military market with your offers. Join over 500 top brands and leading travel providers with a longstanding track record of creating and marketing a successful military offer with WeSalute.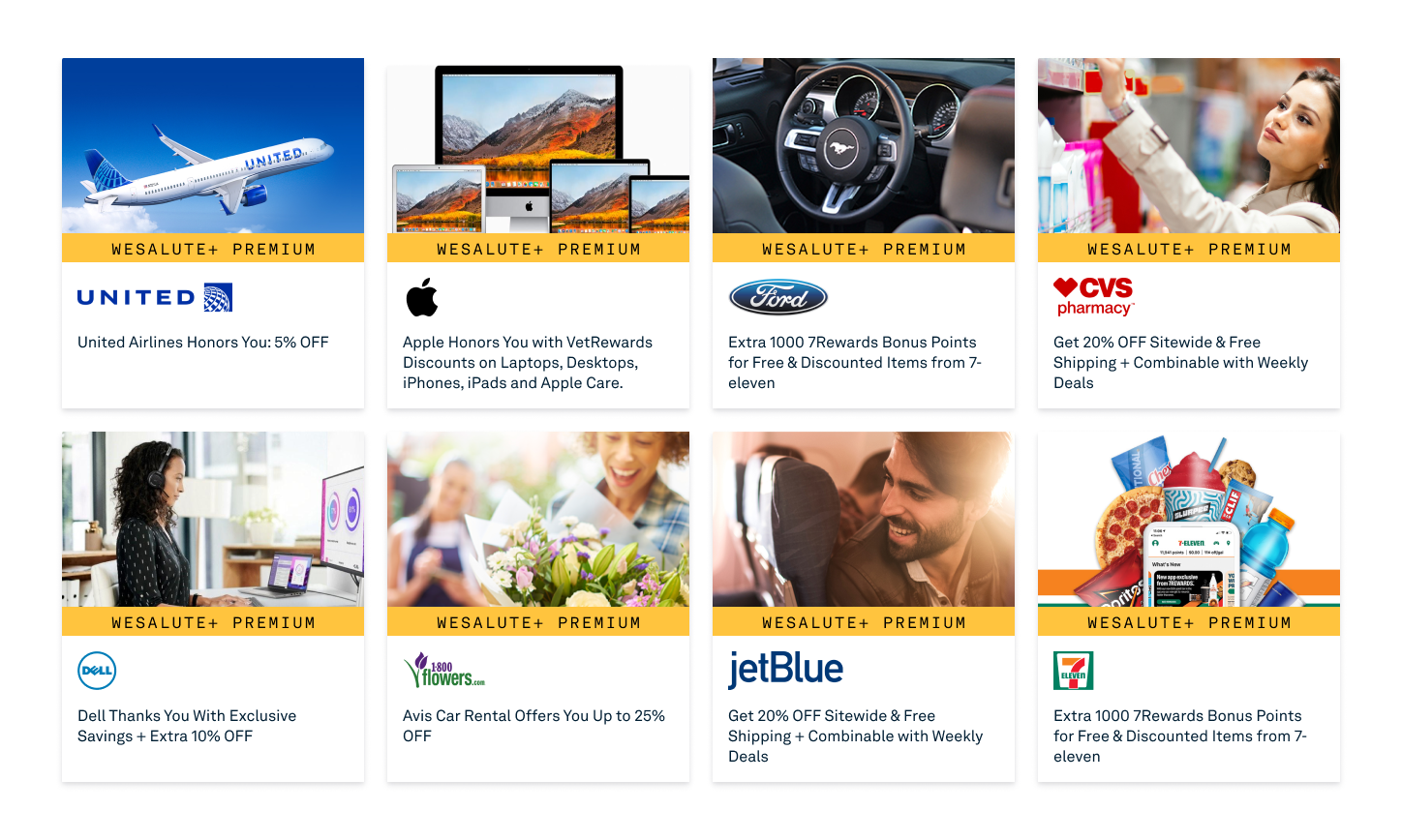 Create a successful military offer
 Implement targeted email campaigns
 Build dedicated landing pages
 Generate engaging copy and creative
 Optimize military content for SEO
 Produce viral social media
 Design effective print & direct mail
 Support military offers with live call center
 ROI with social impact
 Increased customer acquisition and retention
 Incremental new revenue
 Increased customer loyalty
 Deep customer affinity for your brand
 Strong reach with millennials & women
 High disposable income value shoppers
 Powerful network effect with Fortune 500 brands
Three Easy Steps to Get Started
We'll build a successful strategy for your military offer, marketing campaign and media.
We'll deliver creative for emails, landing pages, deals, and point of sale redemption.
We'll work together to launch your military offer in our respective marketing channels.
We Help You Earn Their Loyalty
Marketing to your military customers requires attention to detail and flawless execution. To earn their loyalty, you'll need to deliver marketing programs that speak to their unique needs and backgrounds. Our specialized marketing team helps you design and segment your military marketing program to communicate it effectively within the military community.
We are military marketing experts who believe in treating military customers with the care they deserve. Learn more by clicking here to request our white paper: Top 10 Military Marketing Mistakes.